Mossberg 590m Mag-fed Pump 12ga 10rd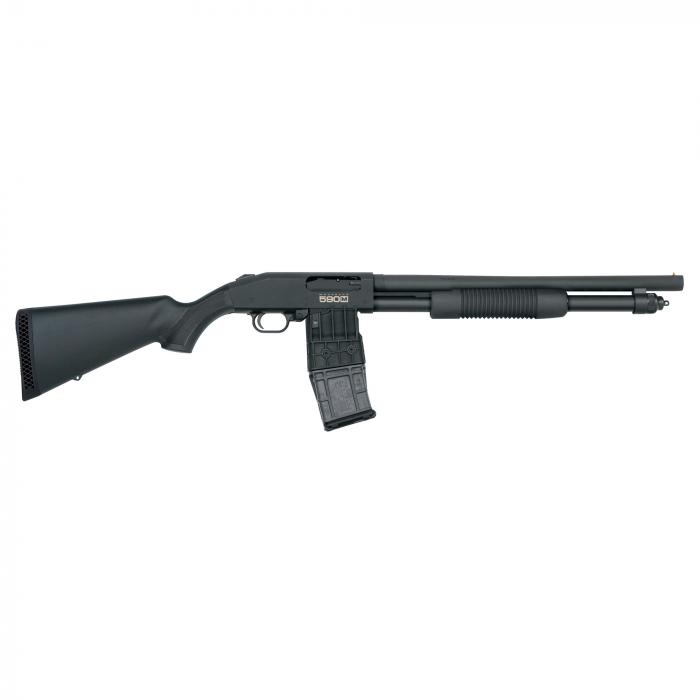 Mossberg 590M Mag-fed Pump 12ga 10rd 18.5"
The all new Mossberg 590M is the first of it's kind magazine fed pump-action shotgun! The 12ga shotgun sports a 18.5" cylinder bore barrel and includes a magazine that holds up to 10 12ga 3" shells.

The best selling point to the shotgun is the smooth ability to easily drop and add magazines. The magazine connect is similar to the Saiga in that they both connect in a simple rocking motion.

Current magazines available for the 590M come in 5rd, 10rd, 15rd and 20rd.


Item Info
| | |
| --- | --- |
| Item | Available In Store |
| UPC | 015813502054 |
| Brand | O.F. Mossberg |
| Model | 590M |
| Mfg No | 50205 |
| Gauge | 12ga |
Tech Specs
| | |
| --- | --- |
| Action | Pump |
| Caliber Gauge | 12ga 3" |
| Barrel | 18.5" Cylinder |
| Finish | Black |
| Stock | Synthetic |
| Hand | Right |
| Capacity | 10rd |
| Sights | Bead |